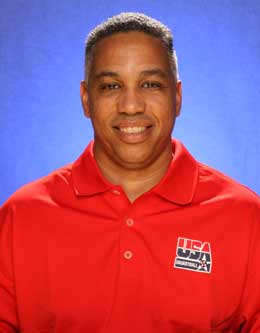 Kevin Sutton Assistant Coach University of Pittsburgh, Two-Time Coach of the Year, and an Outstanding Teacher of the Game of Basketball shares his knowledge amassed from 32 years of coaching both as an assistant and head coach working with players from the high school level and up in the United States and abroad
Definition of Coach
An Educator with the opportunity to impact lives
Coaching Why
Helping people become what they want to, creating living trophies trophies that don't sit around collecting dust but go out and do things in the world that impact others
Thought for the day
if you treat a man as he is he will remain as he is but if you treat a man as he could be and should be then he will become that which he could be and should be – Johan Wolfgang Goethe
Failure
Coach Sutton doesn't like to use the word failure he prefers setback or steppingstone to the next success
Fundamental 4
Shooting- it starts with your feet and body balance and ends with a good follow through. Shooting form should be practiced every day off the backboard not trying to make it.
Practice plan
Power jumpshot series- three teammates, a rebounder, a passer, a shooter, working together on 10 shots from a certain spot and then rotating roles until all three players have been the shooter.
Coaching Tool Box
The ability to teach, first we must learn and then the ability to pass on what we have learned to our players, teach them.
Book Recommendation
Make the Big Time Where You Are – Frosty Westering
How Full is Your Bucket- Tom Rath
Anything by John Gordon- The Energy Bus, The Seed, The Hardhat, You Win in the Locker Room First
The Five Dysfunctions of a Team- Patrick Lencioni
Five- Dan Zadra
Contact
www.KevinSuttonBasketball.wordpress.com
Twitter @CoachSutton